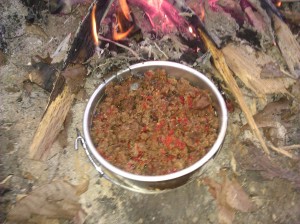 Isn't it sure nice to sit down and eat a nice hot meal after a long hike and setting up camp. I know I enjoy it, but you know what I don't like? The price for one. Mountain House meals easily fall into the seven dollar per package range. The price of some good meal's at  restaurants. Which wouldn't be too bad for a gourmet meal. But is not a gourmet meal its slop. The food is full if terrible ingredients, fillers, gmo/ roundup sprayed, poor quality food and food that I would prefer not to eat. I like to try my best to eating a Paleo diet. No grains, dairy or  legumes. Unfortunately those ingredients make up the basis for most freeze-dried camping foods. Alone with ingredients I can't even pronounce. I would love to be able to even have the opportunity to buy an organic paleo freeze-dried meals for camping. But you can't. I just looked trust me. I'm going to go over some options that are available store-bought to eat, how to make your own high quality paleo meals anyhow you can even recreate MH meals at home for much cheaper and eliminate the extra junk you don't need.
I've been following the paleo lifestyle for about a year. At first this proved to make camping trips a bit of an issue. Before I could simply run into a sporting goods store and grab a couple and freeze-dried meals. Even though it was pricey I didn't really know any other options. After starting Paleo I wasn't sure. I read the back of all the packages and the ingredients and nutritional facts frightened me. obviously I could not have anything from the store but what else was there. I found a few resources on the internet. My favorite find was The Backpacking Chef where I learned how to dehydrate ground beef. The guy that runs the site there shows how to make your own dehydrated meals for camping.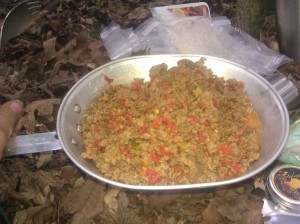 My first venture into making my camping meals was a simple one.  I made grass feed taco meat and salsa. I cooked the ground beef till fully cooked. washed the meat off in a colander just like in the pemmican article then added back into the skillet to add seasonings and the salsa. I cooked it a bit longer mostly trying to cook off some of the excess moisture. Then I put it in my dehydrator on parchment paper for about a day and a half. I was aiming for a brittle texture. once finished  I vacuum sealed it and put it away. One my following camping trip I took it out and added it to boiling water for about 15 minutes. It fully re-hydrated and was delicious. I estimate the cost to be about five~six dollars. Although I seems like I managed to only save a dollar the quality was vastly improved. I was one pound of organic grass-fed beef with minimal ingredients added.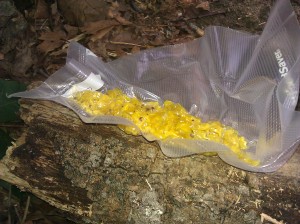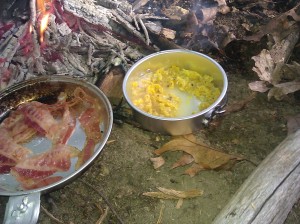 The success of my first meal was followed by utter failure however. Following directions I found on Youtube to dehydrate scrambled eggs I tried that and took it out on a trip. The process for the eggs were to scramble with very little to no oil. Then dehydrate to brittle. I followed this and like before added them to boiling water for 15 minutes. After that time I tried them. they went from brittle to rubbery. And the flavor was…off. I let the eggs continue re-hydrating for about an hour more. At that time they were still rubbery and tasted abominable. I could not even try to force them down. Moral bring fresh eggs they can last days (if not weeks) without refrigeration or buy real egg powder. In my experience though once dehydrated never use eggs as a main item. adding to something fine but you can't scramble egg powder.
Following that I have taken homemade jerky and biltong on trips. This can be used as snacks for sure but with a little effort can make a full meal. One example is to take your jerky and cut it up and add it to boiling water. Its going to need to be in there a while. Add to your boiling water one to two bullion cubes. They are so small and light and add so much flavor I always carry one or two in my packs. Next  add an assortment of dehydrated veggies to the broth. Bring the broth down to a simmer and cover. once the meat is soft and the vegetables have hydrated you can eat. The weight on this is tiny and the nutritional profile will be way higher than anything you can find in a can of soup.
The new addition of using foil packs for certain meats in stores, i.e Tuna, chicken and spam, makes them viable options for taking on camping trips. If lazy they can be eaten straight from the package. They can be used in place of jerky for the soup recipe. If you brought a cooking oil you can fry them. Fried spam is definitely the way to go. If you brought any veggies you can re-hydrated them and add them for a stir fry.
Another new technique I've been trying is bringing frozen foods. The trick on this is to plan what you're going to eat one the first day in and preferably earlier. freeze it solid for at least overnight. right before you leave take it out and wrap it up food. Use a combination of plastic, aluminum foil, then wrap it in a spare shirt or wool socks. I tried this with hamburger patties once and when I went to cook them they had just thawed out and were ready to be cooked. This is a great option for breakfast and lunch meals on day hikes or the first day of a camping trip. I would never use this for longer than a day though unless your winter camping in temps under 32 degrees. Also a word of caution do not try this If you will be camping or hiking in known bear country. The smell of the thawing raw meat could bring unwanted attention.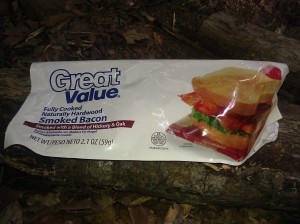 One of my favorite options is Summer Sausage and other hard sausages. I opt for the smaller ones in the 4-8 inch long size. In winter I could see taking the longer ones for hikes lasting more than a few days. On short day and overnight hikes a the short summer sausage and pepperoni are amazing.  This option in nice for when you simply don't feel like cooking, or want to keep moving. Another option here in he cured meat category is precooked bacon packs. I prefer the Wal-Mart variety since it comes in a flexible plastic zip lock package. I would be iffy about eating precooked bacon for more than two days after opened. For all the cured meats the bear warning is in full effect once open.
Lastly in my priorities would be trail mix type foods. Steve's Original sales some Paleo trail mix. I have not yet tried anything from his site and cannot speak for taste. Making your own though is super easy. I would choose to dehydrate some berries, probably blueberries and your favorite fruit and add to a mixture of nuts and jerky. You could dehydrate just fruit and take that. I've done apples, berries and bananas before all at a fraction of the store-bought cost and without any added sugars. I tend to stay away from this mostly because they are very snack prone. You just kinda munch away without thinking and eat all of it. For that reason I try to focus on building meals to keep me full and reduce snack items.
Those are my choices for optimal food choices to carry on camping/ hiking trips. No need to derail from your caveman eating habits while in the wild. All you need is a little forethought. If you prefer to eat meals built more like the commercial varieties, Chili Mac, Spaghetti, chicken and rice etc, but want to save money or use better ingredients I can still help.
You love your Mountain House chili mac but hate the price? It's about $6 a serving. I can tell you how to easily replicate it for around $2 a serving. This recipe is optimized for maximum cheapness and can be modified for health by swapping out cheap stuff for better quality. Go buy the cheapest pound of hamburger meat you can find. For me this is around the $2.50 range. Buy a store brand hamburger helper of Chili Mac or whatever you prefer. Cook hamburger meat like I detailed for dehydrating. At this point you can either integrate your seasoning packs then dehydrate or dehydrate the meat unseasoned. The only real difference is that the unseasoned meat will dry faster. But the re-hydrating process is more involved. You'll need to rehydrate then add noodles and seasonings. The other method involves making the meal like normal after draining the grease and dehydrating the entire meal. This makes drying time significantly longer but the re-hydrating process is much easier and faster. In both cases package in vacuum sealed bags and refrigerate till the morning of the trip to ensure freshness.
Those are my cheap ass methods of eating on the trail and eating top quality. So next time your planing a trip make your own meals for much cheaper and make sure that your eating the high quality your used to. A hot meal on the trail is great for moral and making it at home is great on the body and wallet. Whats your favorite trail food? Lemme know in the comments